Gail Schwartz never thought gun violence would touch her life. She had read about shootings in the news, of course. Everyone has. But as a mother of two living in the quiet town of Parkland, Florida, she told me that a school shooting was "literally the furthest thing" from her mind.
When her mother-in-law called on February 14 of last year, saying there had been a shooting at Schwartz's nephew's high school, Marjory Stoneman Douglas, she kept going about her day. Schwartz couldn't process that someone she loved would be affected. It simply did not compute.
But she later got the agonizing news: her nephew, Alex Schachter, had been killed in the shooting. He was 14, the same age as Schwartz's oldest son. They had been close, loving each other like brothers. Alex's death shattered the family. Schwartz cried nonstop for two weeks. "If anyone thinks that this can't happen to them, or to their child, they're delusional," she told me. Alex was one of the seventeen students and staff members who were killed by nineteen-year-old Nikolas Cruz, using an AR-15 style semi-automatic rifle that he legally purchased.
[Read: Trump's hollow gesture on guns]
During one of those painful weeks she opened the local paper, the Sun-Sentinel, to an editorial, "How Parkland students could get assault weapons banned." The Florida legislature had just voted down an assault weapons ban, and the editorial outlined how Floridians could circumvent politicians and ban assault weapons using a ballot initiative to amend the state constitution. Schwartz owns an insurance agency—she is not a professional community organizer. But she felt the article was speaking to her. "I wanted to bring about some positive change, so that the victims did not die in vain," she said. So she got started.
A month after she saw the editorial, Schwartz founded a political committee to get the assault weapons ban on the 2020 ballot. The committee—called Ban Assault Weapons Now, or BAWN—aims to ban the future sale of semi-automatic assault rifles throughout Florida. With guidance from Parkland's Democratic Representative Ted Deutch, who represents Parkland in Congress, Schwartz has gathered a team of professional political strategists and Floridians directly affected by gun violence, including both the Parkland and Pulse shootings. The group also has a rare advantage—bipartisan support. BAWN has partnered with prominent Republican donor Al Hoffman and his gun control advocacy organization, Americans for Gun Safety Now!, which is made up almost entirely of Republicans who support an assault weapons ban. They have now formed a coalition, Do Something Florida! Under their division of labor, BAWN will handle the gathering of petition signatures needed to get on the ballot, and Americans for Gun Safety Now! will direct an education and advocacy campaign arguing the need for an assault weapons ban.
On Monday, representatives from the coalition will meet for a ceremony in front of the Broward County Supervisor of Elections Office to honor the 17 students and teachers killed a year ago in the Parkland shootings. They will then submit their first round of ballot petitions for verification.
Do Something Florida! faces a difficult task. BAWN has approximately a year to collect 766,200 verified petition signatures, and then will need at least 60 percent of the vote in favor of the ban in a historically gun friendly state. On top of that, they're sure to face organized opposition from gun-rights activists.
[Read: The NRA is still a staple of daily American life]
Ballot initiatives have already been used by other states for gun control measures, some more successfully than others. In 2016, Maine voted against an initiative for mandated background checks on all gun sales, and Nevada narrowly passed a similar measure before the state's attorney general struck it down. This past election cycle, Washington state voted in favor of an initiative implementing multiple gun regulations, and organizers in Oregon also intend to have a question on the 2020 ballot that would ban assault weapons. Seven other states and Washington, D.C., have already banned the transfer or possession of some assault weapons through legislation.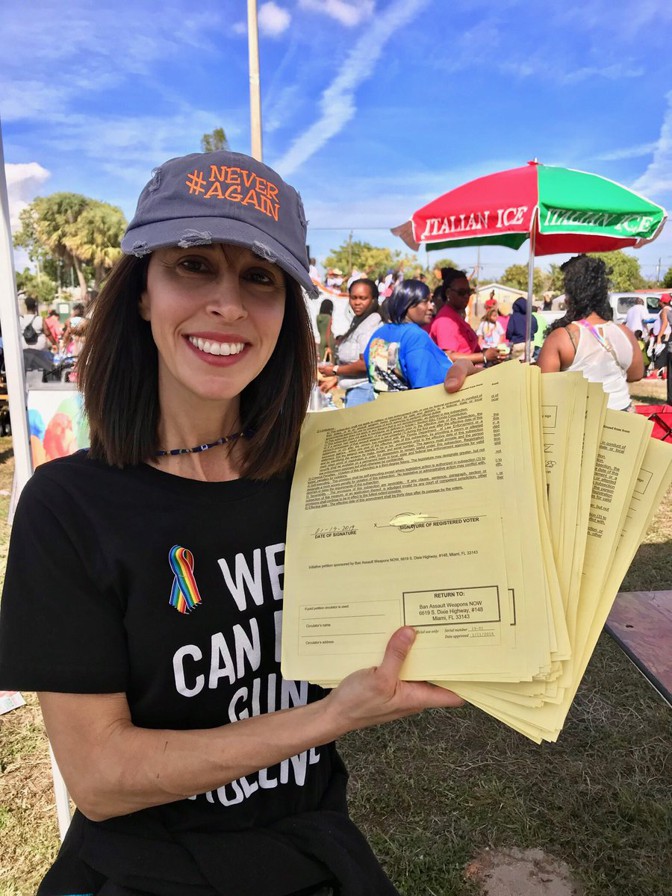 The language of such bans has been subject to heated debate. Lawmakers have long struggled over how to define assault weapons; those in the gun industry commonly use the term assault rifle to refer to fully automatic weapons used in the military, which have been federally regulated since the 1980s. However, most state laws, as well as the 1994 Federal Assault Weapons Ban that expired in 2004, define assault rifles as high-powered semi-automatic firearms. These laws typically define assault weapons by listing specific semiautomatic firearm models and specific design features (such as pistol grips or folding stocks). Definitions in the law often end up providing loopholes. For example, gun manufacturers have historically worked around these bans by selling high-powered semi-automatic weapons without the listed design features.
BAWN's proposal defines assault weapons more broadly than past definitions. Instead of listing design features to designate the banned weapons, the question describes assault weapons as "semiautomatic rifles and shotguns capable of holding more than 10 rounds of ammunition at once, either in a fixed or detachable magazine, or any other ammunition-feeding device." This definition expands on several existing state laws by including weapons that can accept large-capacity detachable magazines, which typically make assault weapons so lethal.
[Read: Democrats are newly emboldened on gun control]
While these may seem like minor details, the language was carefully chosen. BAWN hired John Mills, a former speaker of the Florida House of Representatives and the former dean of the University of Florida College of Law, to write the ballot proposal. Mills, who has authored many amendments to the Florida constitution, also worked extensively with gun policy experts from Everytown, the national gun control advocacy organization founded by Michael Bloomberg. Mills told me that they took care to phrase the question so that it did not include what most people would consider common hunting rifles. The ballot initiative also includes specific language committing to the Second Amendment, which may bolster the amendment's chances in the event there is a legal challenge, which has been known to happen following previous gun control initiatives.
BAWN's assault weapons ban, which exempts military or law-enforcement members, would make possession of the defined weapons a third-degree felony. It would also give Floridians who already own these weapons a year to register them before their possession becomes illegal. Florida is one of only 10 states that currently prohibits a gun registry, so this would be a notable change. Since the ballot initiative is a constitutional provision, it would supersede that statue. The ban would not include handguns, which both BAWN's ballot proposal and the Florida Constitution define as "a firearm capable of being carried and used by one hand, such as a pistol or a revolver."
Experts disagree over the effectiveness of assault weapon bans. Louis Klarevas, an associate lecturer at the University of Massachusetts at Boston and the author of Rampage Nation: Security America from Mass Shootings, found that the use of assault weapons increases the average number of people killed in mass shootings, based on data from 111 mass shootings that involved the death of six or more people between 1966 to 2015. Based off of his research, Klarevas says it is fair to conclude that if there were restrictions on assault weapons, fewer people might be killed in high-fatality mass shootings. On the other hand, a study by the RAND corporation, a public policy think tank, found little scientific evidence to show that assault weapon bans have effects on mass shootings, though they did find evidence suggesting that the bans cause consumers to rush to buy the weapons before they're off the market.
Following the Parkland shooting, the Florida legislature passed sweeping gun control legislation, banning bump stocks, raising the age to buy a rifle to 21, and imposing a mandatory three-day waiting period for gun sales. However, the state House voted down a ban on semiautomatic guns and large-capacity magazines, disappointing gun control advocates. Florida law still includes many gun-friendly policies: currently Floridians do not need a license to buy a gun, and a 2011 state law penalizes any municipalities who attempt to pass gun control laws within their jurisdiction. Adam Winkler, a law professor at University of California, Los Angeles and the author of Gunfight: The Battle over the Right to Bear Arms in America, explained to me that Florida has been a leader in the gun-rights movement for over thirty years, on the forefront of both the concealed-carry movement and stand your ground laws. It would be a particular feat if BAWN passed such a strict gun control measure in Florida's gun-friendly political climate, he said.
[Read: The Parkland students aren't going away]
But BAWN's bipartisan support is almost unheard of when it comes to gun issues. Republican donor Al Hoffman, whose group Americans For Gun Safety Now! makes up the other half of Do Something Florida!, has personally pledged to donate and help raise money for BAWN. A Florida-based real estate magnate, Hoffman is the former finance chairman of the Republican National Committee, and also chaired the finance committees of the presidential campaigns of former Florida Governor Jeb Bush and his brother, former President George W. Bush. Under President Bush, Hoffman served as Ambassador to Portugal. A supporter of Senator-elect Rick Scott, Governor-elect Ron DeSantis, and President Donald Trump, Hoffman has possessed a concealed-weapons permit for 30 years. He owns a shotgun for birding, and carries a pistol in a briefcase in his car. He told me he strongly supports the Second Amendment, and strongly supports an assault weapons ban. For Hoffman, those two beliefs can easily coexist.
Hoffman developed many of the neighborhoods around Marjory Stoneman Douglas High School and was involved in the planning of the school. On February 14, 2018, he was watching the news when he saw the scene in Parkland unfold. He told me his first thoughts went to his own teenage children, who attended a different school. "My heart [went] to the bottom of my stomach," he said. "I thought, 'This cannot stand. And will not stand.'"
Hoffman reached out to friends and other influential conservative donors, and they decided to form Americans For Gun Safety Now!. The advocacy organization aims to convince lawmakers to ultimately ban, and in the short term regulate, the sale of assault weapons. Hoffman also made waves on his own in March by publicly pledging to donate money only to Republicans who supported banning assault weapons—leading him to only back two candidates in 2018, Brian Mast and Carlos Curbelo. He told me it seemed like few Republicans wanted to touch the issue, especially in an election year. But, he continued, "We're at the point right now… where I really don't care."
Not long after Hoffman formed his organization, Gail Schwartz called. Schwartz had heard about Americans for Gun Safety Now! and was thrilled that other groups in Florida were already organizing. They arranged a meeting and, as Schwartz told me, the two "were heartbroken together." Hoffman was impressed with Schwartz's passion, and liked the prospect that a citizens initiative would avoid legislative politics.
On the surface, the organizations are an unlikely pair. Americans for Gun Safety Now! includes prominent Republicans, such as professional golfer Jack Nicklaus, and BAWN includes seasoned Democratic operatives. "This isn't about if you're a Republican, or a Democrat," Schwartz told me. "This is literally about saving lives."
When Christine Leinonen heard there was a shooting at Pulse, the gay nightclub where her son Christopher had gone that night with friends, she immediately drove 50 miles to Orlando from her home in Polk County, Florida. In the chaos outside of the club, she ran into Christopher's friend, Brandon Wolf, who described the scene inside.
"I said, 'Oh my God that's an assault weapon. That's not good,'" she told me. Lineleon remembered an interview she had seen of the parents of Dylan Hockley, a young boy who was killed in the Sandy Hook massacre in 2012. They said they had spoken before Congress because they didn't want anyone else to join "the club" of people who lost loved ones to mass shootings. "I kept thinking, 'Oh my God I'm going to be in this club now. I don't want to be in that 'club'," Leinonen said.
[Read: The Post-Parkland Unity Is Officially Over]
Christopher was killed in the Pulse massacre on June 12, 2016. Though some other families of the Pulse victims decided to testify for gun control before Congress, Christine chose not to. She remembered Hockley's parents, and how, despite their testimony, "even common sense gun legislation" was not enacted.
But when Leinonen got a call from Schwartz explaining the ballot initiative, and its bipartisan support, she felt hopeful about the possibility of legal change for the first time. "I said, 'You're ingenious. That's ingenious,'" Leinonen told me.
Indeed, Schwartz has reached out to survivors and to victims' families and throughout Florida. Together they have formed a committee of Floridians ready to give interviews, speak at fundraising events, and do whatever they can to convince voters that the ballot initiative should be important to them. Both March for Our Lives, the national political movement founded by Parkland survivors, and the League of Women Voters of Florida, have endorsed BAWN. The president of the League, Patricia Brigham, sits on BAWN's committee.
Besides Brigham, much of BAWN's committee is made up of everyday Floridians—Leinonen is a licensed attorney, and Pulse survivor Brandon Wolf, who also sits on the committee, works in retail. Most had no prior experience in politics before they experienced gun violence. But behind the scenes, veterans of successful Democratic campaigns and past ballot initiatives are also involved.
Schwartz's team includes Florida-based political consultant Ben Pollara, as well as Eric Johnson, a former Congressional chief of staff. Ashley Walker, the manager of Barack Obama's 2008 and 2012 Florida campaigns, will manage BAWN's media, and pollster Anna Greenberg—who worked on the gun safety initiatives that recently passed in Washington state—will run its internal polling. Deutch, the Congressman who represents Parkland, leads BAWN's steering committee.
Though ballot initiatives are not as common in Florida as in some other states such as California, Florida has still has had some notably successful campaigns. Most recently the passage of Amendment Four restored the right to vote to 1.5 million former felons living in the state. A ballot initiative to legalize medical marijuana also passed in 2016. "I do think this is a real sign of a new development in the gun reform movement, to move towards these initiatives," said Adam Winkler of UCLA. "To do it in Florida, where the lawmakers really are very pro-gun, sort of marks a new chapter in gun politics."
Polling shows that a greater proportion of Floridians support a ban than do their legislators, but still not enough for the initiative to pass today. A September poll from Florida Atlantic University found that 51 percent of the state's voters support a ban on assault weapons—nine points lower than the 60 percent mark BAWN needs.
But first, BAWN must collect 766,200 signatures from registered Florida voters—at least eight percent of the state's total electorate in the last presidential election. To insulate against common errors with signature collection, BAWN needs to over sample by 20 or 30 percent—which means they'll have to collect over a million signatures. Once they have collected 10 percent of the required number of signatures, the petition will go to the state Attorney General, and then on to the Florida Supreme Court. The Court will review the ballot question's language—and if it passes muster—the question will go on the ballot. But if they don't collect the required number of signatures by February 1st, 2020, they have to move to the 2022 ballot. And each signature is only valid for two years. "I know this is a monumental endeavour, I'm not diluting myself," Schwartz said to me. "but I really do feel that Floridians want change."
All of this is going to cost a lot of money. Pollara estimated that just getting on the ballot will take around $5 million dollars, not including an advertising campaign in a huge state with 11 media markets.
BAWN has raised nearly $440,000 since last March, and spent around $300,000, according to Florida's Division of Elections. Most of the fundraising so far has been from small dollar donations, Schwartz said. Americans for Gun Safety Now! has also been fundraising. BAWN plans to have collected its first 100,000 signatures—the ten percent needed to trigger Supreme Court review—in a few months.
Experts predict that gun rights activists will likely challenge the ban in court, and although no organized opposition to BAWN has emerged yet, it likely will soon. But Do Something Florida! is hopeful that their initiative will also garner bipartisan support at the polls.
"I don't want people to bury their friends anymore," Pulse survivor Brandon Wolf told me, explaining why he believes in the initiative. "I don't want others to bury their children anymore."